According to California Highway Patrol, the beloved comedian Kevin Hart was involved in a horrific car crash early Sunday morning. Hart's car, classic 1970's Plymouth Barracuda, plummeted a 10-foot Malibu ditch, after careening off the winding Mulholland Highway.
[caption id="" align="alignnone" width="563"]
Heavy[/caption]
The crash completely demolished the vehicle's roof, as it crushed into wooden fencing along the roadside. Driver Jared Black and fiancé Rebecca Broxterman were left pinned to their seats, requiring the local fire department to saw off the mangled roof to release the pair.
Hart, like Black, suffered major back injuries, but managed to leave the scene and get medical attention. Black was later airlifted to UCLA Medical Center while Broxterman sustained minor injuries.
[caption id="" align="alignnone" width="728"]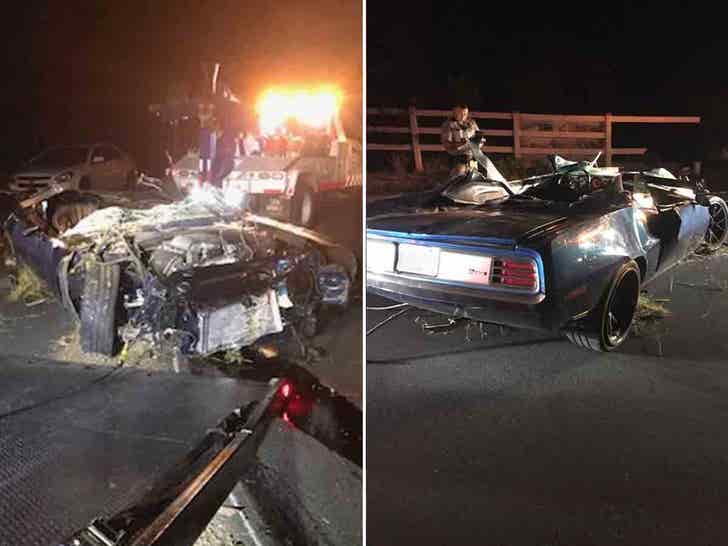 Backgrid[/caption]
While Hart's rep has yet to comment on the disaster, we wish a speedy recovery to both the driver and esteemed celeb, as do his A-list pals.
Terry Crews is just one of the 'VIP's who took to social media to share their support. "Get well soon brother," Crews tweeted, while Dwayne 'The Rock' Johnson posted a heartwarming snap of the pair, writing "Stop messing with my emotions brother...love you man. Stay strong."
[caption id="" align="alignnone" width="648"]
Instagram[/caption]