We just saw the Rod Blagojevich courtroom sketches and they are hilarious. We've been enjoying Governor Blagojevich lately and, inspired by the above sketch, we decided to look for other celebrity courtroom sketches. Here are the 20 Greatest Celebrity Courtroom Sketches. In no real specific order. Enjoy.
1. Michael Vick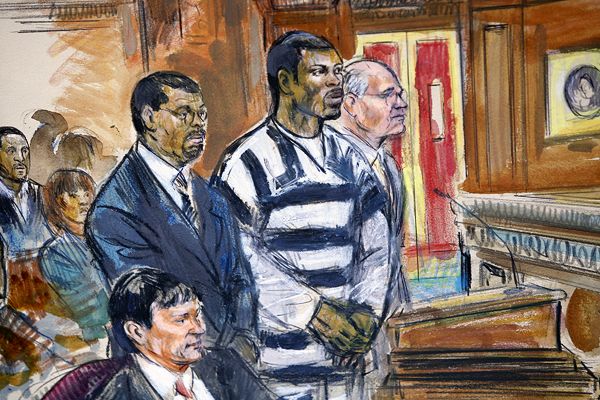 Did Michael Vick get busted for dog fights or for stealing hamburgers?

2. Prosties
This one doesn't really fall into the category of 'celebrity' so much as 'awesome'. We're not even really sure what this one is from. Does it matter? We're just jealous we weren't there for it.
3. Diddy
That's Diddy, apparently under arrest for trying to bring the term "bitch assness" into popularity.
4. Jen and Brad
Jennifer Anniston and Brad Pitt were in court after Jen forced Brad to get a 'Friends' haircut and he just ended up looking like Macho Man Randy Savage.
5. R. Kelly
They say wearing a blue suit helps you look innocent in court. What makes you look guilty, however, is looking like R. Kelly.
6. Britney and K-Fed
She was held in contempt after the bailiff asked her for her name and she said, "It's Britney, bitch."
7. O.J.
"So I'm stabbing the guy, right…. I mean, if I would have stabbed the guy, I would have done it like this."
8. Naomi Campbell
Since when did Naomi Campbell join Animal's band on The Muppet Show?
9. Tommy Lee
On the stand is rocker Tommy Lee. In the foreground is a man reacting to recently listening to Tommy's Methods of Mayhem album.
10.Winona Rider
Winona Rider explaining how she couldn't have shoplifted because she had this "arm thingy".
11. Michael Jackson
The first time in history a stenographer had to type "shamone" during a testimony.
12. Anna Nicole Smith
Anna Nicole Smith (God rest her soul) crying while Alec Baldwin's mom from 30 Rock judges.
13. Woody Allen
Shortly after this Woody Allen-Mia Farrow trial, the woman with her arms folded decided, once and for all, that "white people be crazy."
14. The Hurricane
That's "The Hurricane" guy. The trial was approximately 4 minutes shorter than the Denzel Washington movie and 32 minutes shorter than the Bob Dylan song.
15. The Teflon Don
The first John Gotti trial was just about who got to idolize him more – Jersey Guidos or rappers.
16. Mark David Chapman
This is the exact moment he realized the "Jody Foster Defense" wasn't going to fly.
17. Don King
During the Don King testimony, the courtroom sketch artist was heard yelling, "Man, sometimes this shit is just too easy."
18. Michael Jackson
For some reason, Michael is looking at the judge like he's the one who's nuts.
19. Ted Kaczynski
The Unabomber removes a pair of Blue Blockers to prove the famous 'Unabomber sketch' couldn't possibly be him.
20. Martha Stewart
During the Martha Stewart insider trading trial, the man on the stand was removed for actually saying to the defense attorney, "Three of you. Two of us. Let's get busy."
Comedy.com's ListMaster is Mike Bridenstine. Not guilty.