Oh, Sarah Palin. We're still getting to know you. That's why we've been fooled by fake photos of you and all your hotter-than-most-politician-ness. Here are the Top 4 Fake Sarah Palin photos to circle the web so far. Not counting the fake one with Julia Louis-Dreyfus showing her boobs and vagina, which we're not allowed to post and stuff…
4. The One That's Not Even Her
This is just some chick with a similar style.  What is this?  Some model posing the hottest office looks for 1988?  To be taken seriously at work, ladies, you have to dress like Pee-wee Herman.  If she only takes off those glasses and lets her hair down, she'd be so pretty!  Right, fellas?  Right?
3.  The Horrible Vogue Cover.
Her face is waaaay too big.  And why does putting not-unhot Sarah Palin's face on a hot model lady's body make her look like a nerdy man in drag?  This one is a fail.
2.  The Gun Bikini Picture.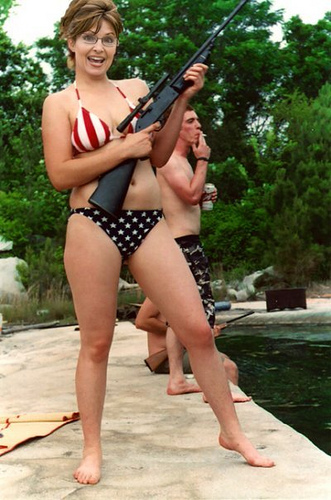 We believed this one?  Look at the guy in the background.  Betcha his name is Randy or some shit.  Would they really let a governor run around with that guy?
1.  The One Where She Looks Really Bangable
No idea how we believed this one either.  This is our fantasy of her.  During the day she's a tough gun-loving, bible-thumping Republican.  At night she let's loose with some classy red wine and classier pleather skirts.  This is the pre-party before a night out at one of those divorcee bars in Anchorage.  The truth is probably more hilarious.  Some scumbag thinks his aging wife is a trophy and he wanted to show her off to his factory buddies so he had her put on her best silk blouse and hooker heels.  Actually, maybe it is real.
Comedy.com's ListMaster is Mike Bridenstine.  He's still hoping real nude photos leak before November.